a
May 2016:



Kiss Me, Kate, Act II Playhouse - Ambler, PA
"The incredible choreography of Maggie Anderson..." - Broadway World
0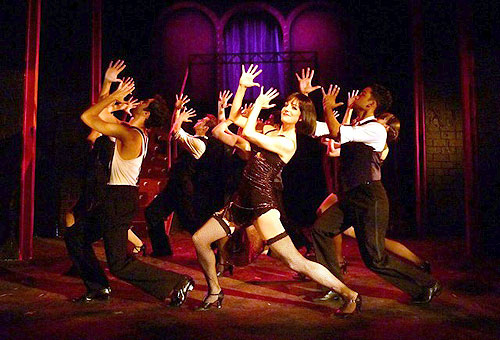 'Chicago': Glitz, Glamour, and Guns - Sullivan County Democrat 8/15/11
"Maggie Anderson as the vampish Velma Kelly and Danielle Kelsey as the sly kitten Roxie Hart are a pure pleasure to watch. Their voices are strong and their legs are long! Who wouldn't want to be locked away in prison with these two? Ms. Kelsey's Roxie bounces from soft victim to comical killer and back again. Ms. Anderson's Velma struts her lingerie clad stuff with attitude and sex appeal. It's tough to look away when either of these two are peddling their goods, especially in numbers like "Roxie" and my personal favorite "All That Jazz."
Catskill Chronicle 8/15/11
"Dan Dunn's masterful direction of the story has female leads' Velma Kelly (the strong and sexy Maggie Anderson) and Roxie Hart (Danielle Kelsy in a sex-kitten, turned ferocious female role) pining for their goals of freedom and security as they cross paths in prison."
Dec 2010:
Feature story on Maggie and the Walnut in NYU's Pavement Pieces,
and the companion piece in James Ryan Chavis's blog "Memoirs of a Southern Transplant"
Chicago at Surflight: By: Peter Filichia, Star Ledger, Published: July 6, 2008
"...There's Maggie Anderson as the tough-talking Velma. Her mouth is so deliciously curvy it could pass for a sonic wave, and her walk across the stage is so confident it promises she'll be just as sensational in dance. She is."

Apr 2009:
Commercial shoot for Charter.net phone/ISP
Look for Maggie as the 'Sweet Mom'
Feb 2009:
200th Anniversary Gala
Walnut Street Theatre,
Philadelphia, PA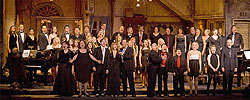 Cover Model - Fine Living Lancaster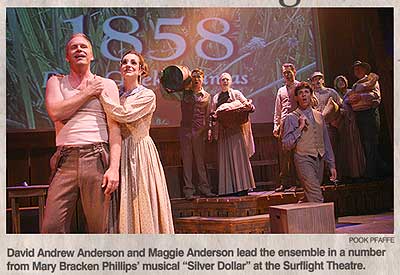 'Silver Dollar' has the golden touch: By: Peter Filichia, Star Ledger, Published: October 30, 2007
"Maggie Anderson and Evie Hutton, respectively, bring Augusta and Elizabeth to life. "You stole my husband and left me with nothing but a grudge," says Anderson, snarling. "If you give orders to a man," counters Hutton with false sincerity, "he'll find a way out of them." These two are riveting for 2 1/2 hours, mostly because Phillips won't succumb to the "first wife, good; second wife, bad" platform. She knows that a romantic triangle is more complicated."
MAGGIE NOMINATED FOR Best Leading Musical Actress 2008 in NJ THEATRE TONYS!

Feature on Acoustic Duo: By: Bob Egan, Nouveau Magazine, Published: June 2007
She's so thoroughly 'Millie': By: Peter Filichia, Star Ledger, Published: June 21, 2007
"Then theres the landlady, Mrs. Meers, a former actress who pretends to be Asian and kidnaps women to sell them into slavery. Early in the show, Mrs. Meers says, "Just give me the right wig, and I can play anything" -- and when Maggie Anderson says it, we believe it. What she does with the songs and subsequent dialogue proves it. Anderson even makes the hoariest of conventions-the villain's maniacal laugh-sound brand-new."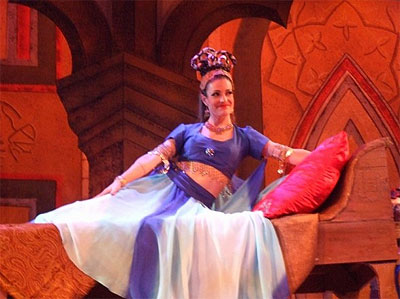 At Surflight, voices will make waves: By: Peter Filichia, Star Ledger, Published: June 4, 2007
"Along the way, the Poet meets Lalume, the wife of the Wazir (chief) of police. She's adroitly played by Maggie Anderson, who hits some stratospheric notes in her big opener, "Not Since Nineveh." Lalume is one crafty character, and Anderson, with a Stan Laurel, straight-line hint of a smile, plays her deliciously. "
Following The Mystery : Maggie Anderson of New Hope, Pa., makes her Philadelphia debut in the new musical 'Windy City' at Walnut Street Theatre. By: Sally Friedman, TIMEOFF Bucks County, Published: September 15, 2006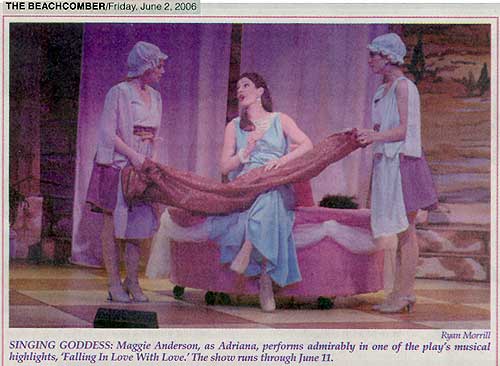 Surflight Theatre: The Boys From Syracuse
New York Times By NEIL GENZLINGER Published: June 2, 2006
North Carolina Theatre: NCT�s Revival South Pacific
Breathes New Life Into This Rodgers and Hammerstein Warhorse
by Robert W. McDowell, Classical Voice of North Carolina, May 2006